HB 188 – Economic Transition Division 
The Economic Transition Act of 2023 will create a new Division within the New Mexico Economic Development Department (NMEDD) and a fund managed by NMEDD. It would focus on creating new jobs, supporting workforce development and investing in infrastructure primarily in communities dependent on natural resource extraction. It builds on New Mexico's economic diversification and workforce development efforts by creating a comprehensive strategy, dedicated staff and a fund to make deep, early and long-term investments in these communities. It would also serve as a hub for distributing federal funds from the Inflation Reduction Act and Bipartisan Infrastructure law to local governments and community groups that service economically disadvantaged and disproportionately impacted communities.
HB 188 – FAQ
WILL THIS TAKE OVER ANY RESPONSIBILITIES OF EXISTING AGENCIES?
No, the purpose of the Economic Transition Act is to support, resource and collaborate with existing programs of our state's agencies. The division will identify any gaps in capacity to assure that our agencies are able to effectively meet the goals of the bill. 
IS THERE AN APPROPRIATION TIED TO THE BILL?
Yes, roughly $1 million for the initial start up of the division, $2.5 million to support the state's Sustainable Economy Task Force (SET Force) and Sustainable Economy Advisory Committee (SEAC) and $10 million to initiate the fund for long-term investments.
HOW IS THIS DIFFERENT FROM THE ENERGY TRANSITION ACT?
The Energy Transition Act (ETA) focused on the closure of the two large coal-fired power plants in the Four Corners Area (San Juan and Four Corners Generating Stations). It provided one-time funding to support workers and communities in the transition. The Economic Transition Act would go beyond the ETA to include other extractive industry workers such as oil and gas workers in the Permian Basin. It would build upon the support for communities and workers in the Four Corners region as well. And the Economic Transition Act will establish a fund for the deep, early and long-term investments that will be needed to make these transitions truly just and effective.
 WHERE WILL THE MONEY FOR THE FUND COME FROM?
The Economic Transition Act will reverse decades of divestment from communities dependent on extractive industries. These communities and workers have generated wealth, affordable energy and other benefits to New Mexico. They deserve reinvestment from the State to assure that they realize a safe and healthy future and a thriving economy.
 The initial $10 million will come from the State's general fund. Subsequent funding will come from local, state and federal governments, and potentially private sources. There are new federal resources available through the Bipartisan Infrastructure Law, the Inflation Reduction Act and other laws and programs. The new division will help to identify resources and help to assure that New Mexico communities can access them.
In the first year the new division will work with SET Force and SEAC to draft an action plan that will include a cost projection for the long-term investments needed for the economic transition. 
WHO IS BEHIND THE BILL?
The Economic Transition Act was developed by the Power 4 New Mexico coalition, a statewide group of indigenous, immigrant worker and community-based organizations whose constituencies live and work in communities dependent on extractive industries or disproportionately impacted by environmental and climate pollution.
 The bill has the support of the Secretaries of Economic Development and Energy, Minerals and Natural Resources. It is sponsored by Rep. Angelica Rubio, Rep. Anthony Allison, Rep. Wonda Johnson, Rep. Kristina Ortez and Rep. Linda Serrato
Sustainable Economy Task Force (SET Force) & Sustainable Economy Advisory Council (SEAC)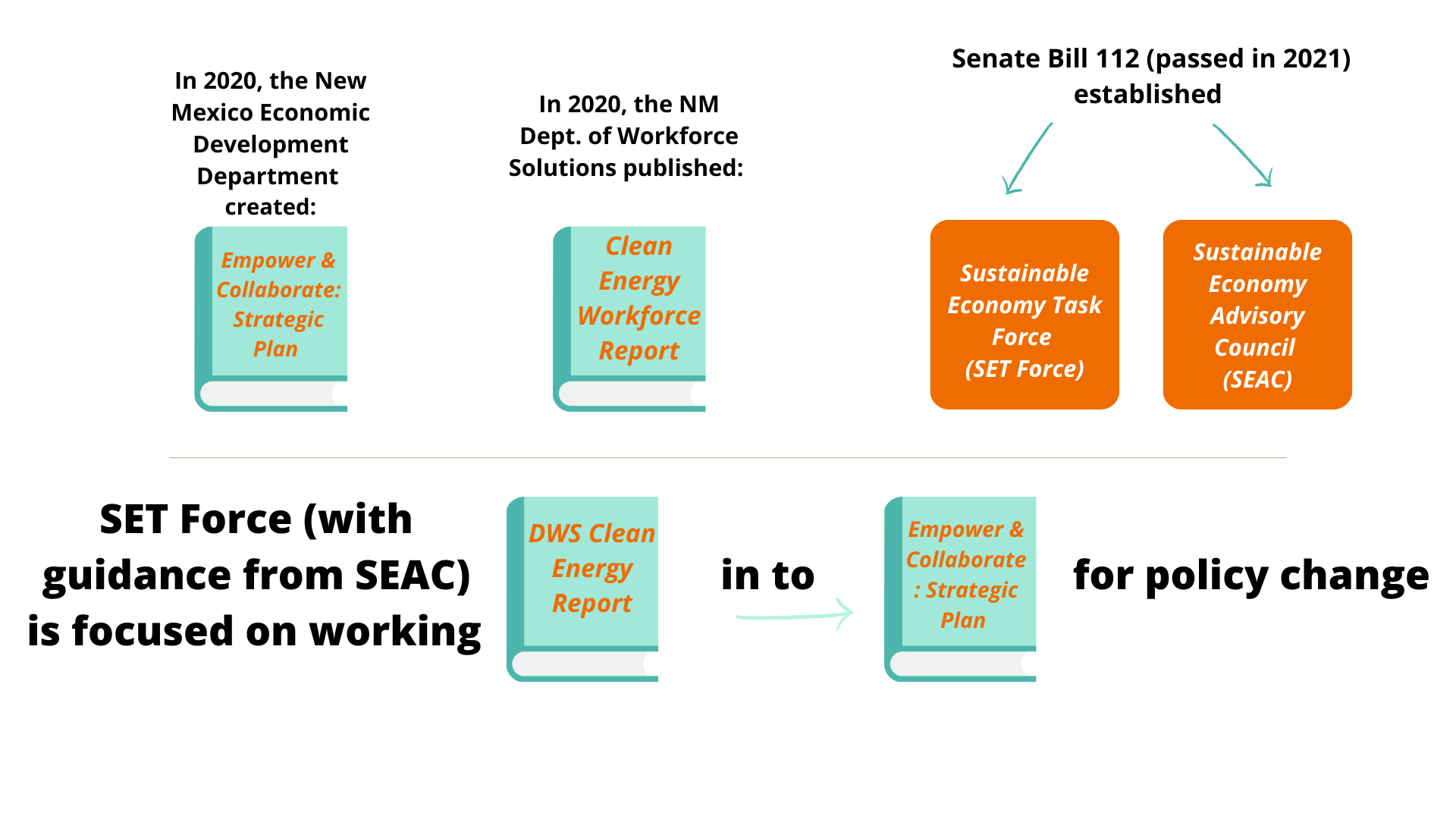 SET Force is comprised of representatives from various state departments

SEAC is mostly frontline community, tribal, and business representatives 

SET Force has to update the Economic Development Department's strategic plan annually through 2027
SB 112 Background
In 2021, the NM Legislature passed Senate Bill 112, that:
mandates the NM Economic Development Department to draft a

strategic plan

to diversify the state's economy beyond dependence on natural resource extraction,

establishes the

Sustainable Economy Task Force (SET Force)

– representatives from state agencies,

establishes the Sustainable Economy Advisory Committee (SEAC)

– tribal, business and frontline communities.
SET Force Strategic Planning
Between 2022-2027, SET Force is tasked with submitting updates to the EDD's  "Empower & Collaborate" strategic plan to transition the state away from reliance on natural resource extraction.
SET Force's strategic plan should provide policies that:
Promote new statewide jobs to replace oil and gas jobs

Diversity the state's tax revenue base

Support long term economic growth.
Get Involved
SET Force and SEAC Meetings:
Find the Sustainable Economy Task Force meeting calendar here.
The Advisory Council  meets on the 4th Tuesday at 3pm each month.